I have explored many different types of stone but in recent years I've worked mainly with New Zealand Jade / Pounamu / Greenstone as the diversity of this stone is incredible.
I am also of an age where I was able to self collect a lot of my jade (well before vesting act) which gives me an intimate relationship with those stones. I also have collected many stones, jades included from the Nelson area over the years. Jade carving is my passion, it offers so many unique colours and textures and ranges in translucency.
Carving these stones into pendants people can wear and treasure is one of my true passions. I work with traditional Maori carving styles as well as contemporary and original styles, adding my own twist wherever I can, for instance adding a variety of different stones and shell to create interesting inlays. I am inspired by the movement and flows in nature and you will see this throughout my work.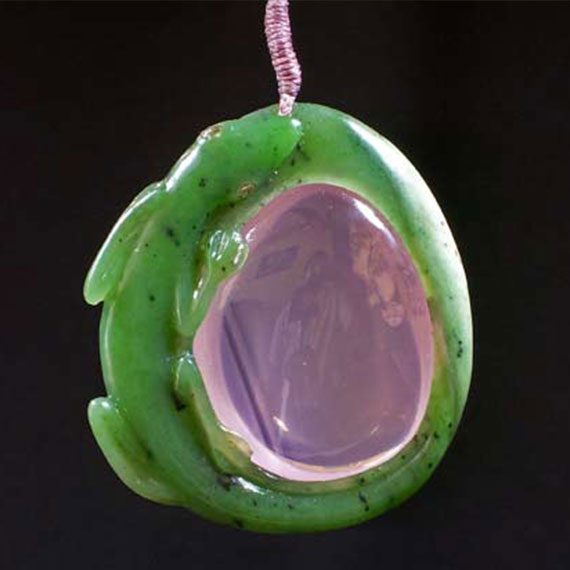 This jade gecko has 2 diamond crystal eyes and surrounds a center of gem rose quartz.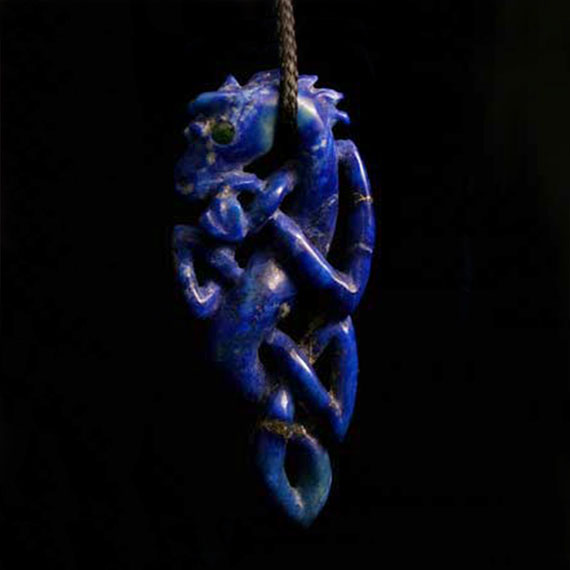 LAPIS LAZULI CELTIC HORSE
I carved this celtic horse from a deep blue piece of Lapis Lazuli from Afghanistan.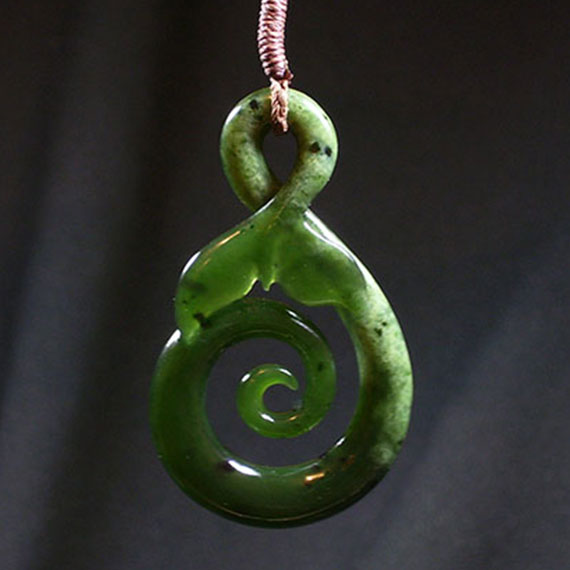 A whaletail and Koru carved from a stunning jade.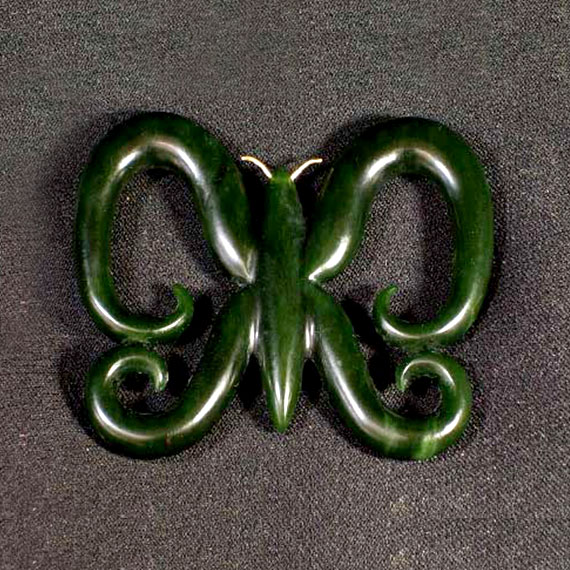 This butterfly was a commission. It's made from a rich deep green jade with yellow streaks and has gold antennae.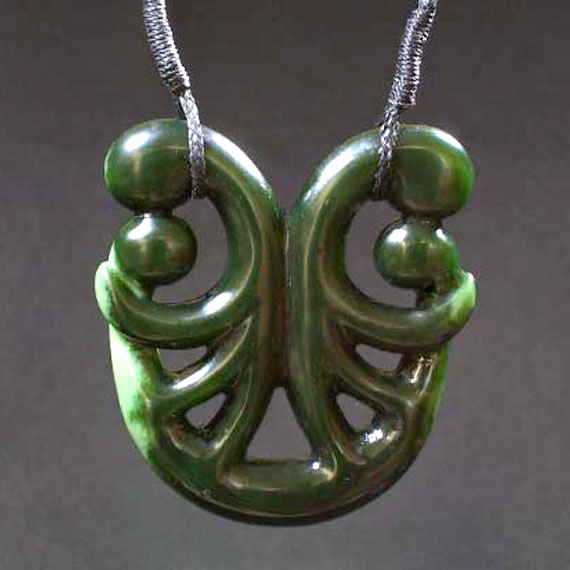 Another commission, this is the logo for the Kohunga Reo (school of Maori language).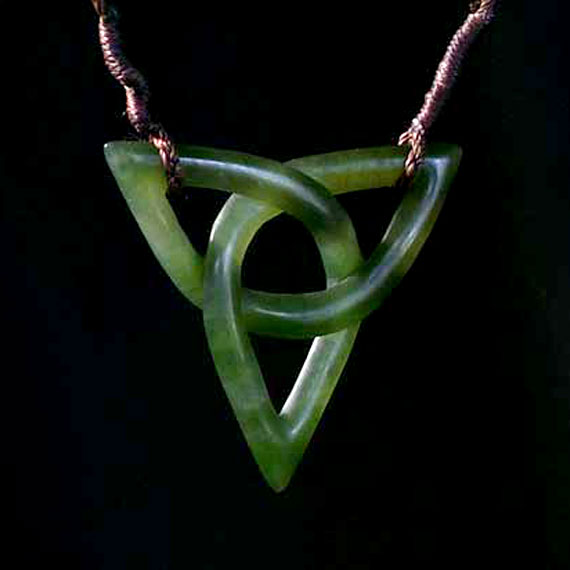 This was one of my first attempts at Celtic knot work.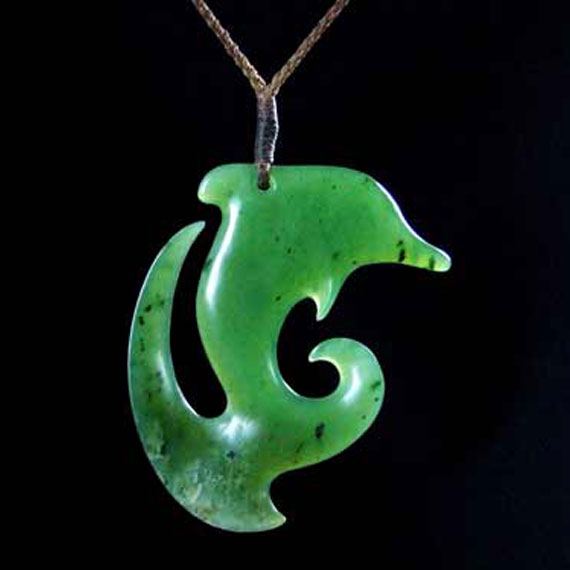 This dolphin leaping from the waves is carved from exquisite Kahurangi jade.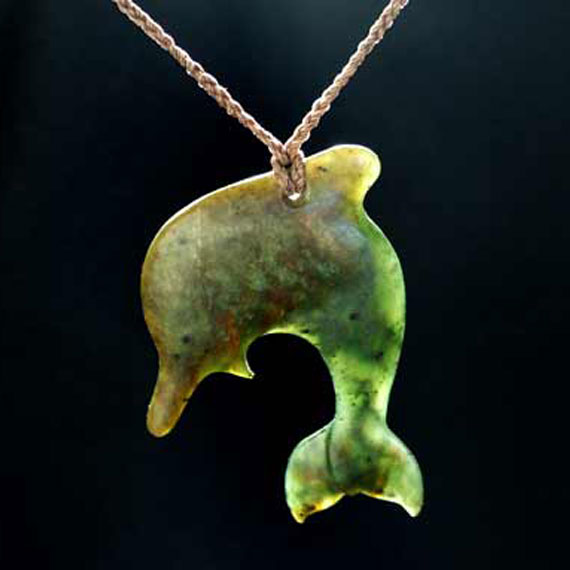 This dolphin is carved from Totoweka jade, due to the red streaks (it literally means 'blood of the Weka").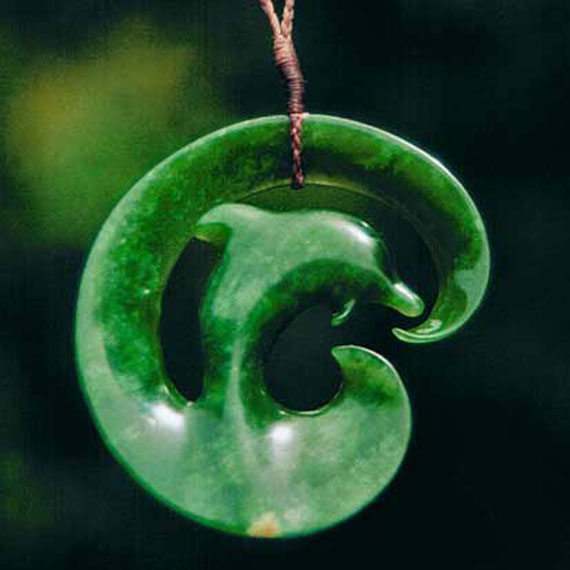 Many hours of rubbing were required to complete this dolphin made from extremely hard jade.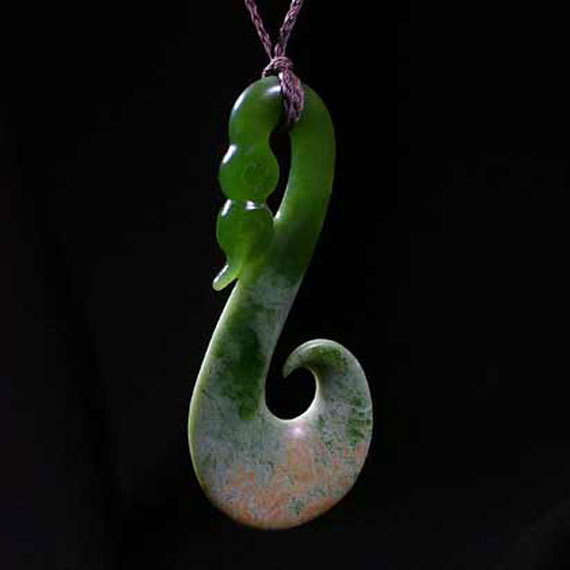 Wonderful colours and patterns in this stunning jade from the Marsden area of New Zealand.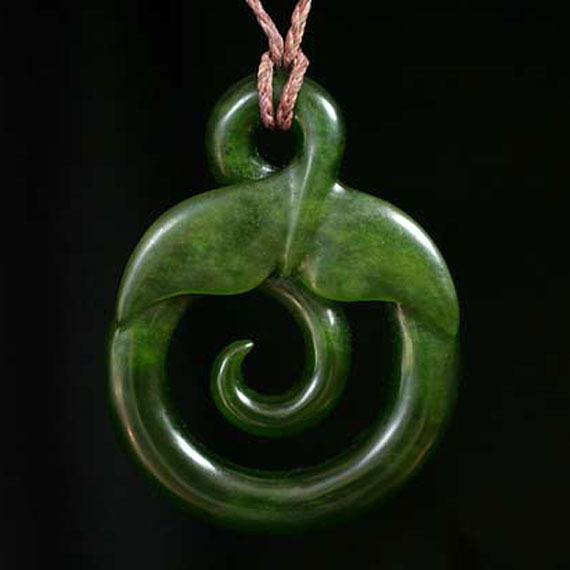 Another whaletail and koru design carved from a jade with yellow streaks in a rich dark jade. Beautiful stone!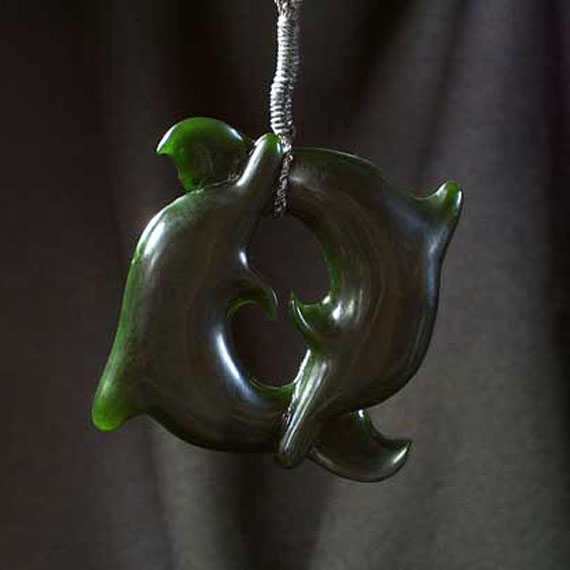 These 2 dolphins are swimming in a circle of rich deep green jade which came from the Stafford area of the South Is. of New Zealand.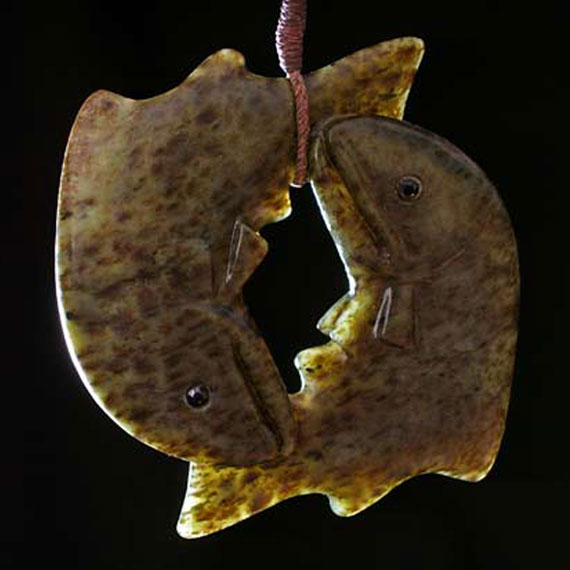 Two brown trout swimming around a circle of lovely translucent Kokopu jade from the South Is. of New Zealand. Eyes are Sapphires.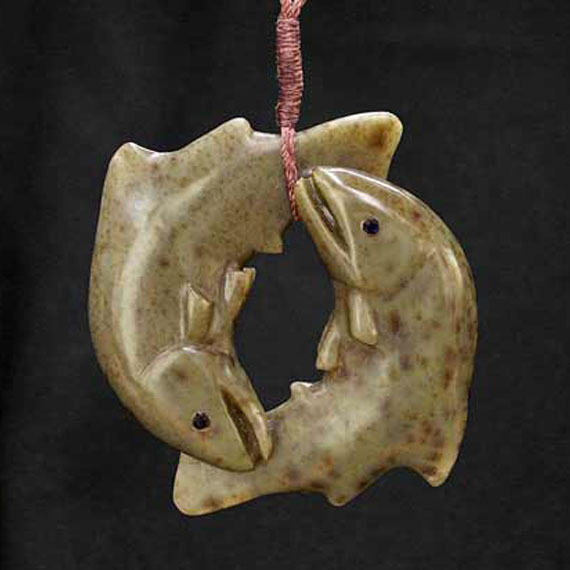 Another carving of 2 brown trout carved from New Zealand Kokopu jade. Eyes are facetted Sapphires.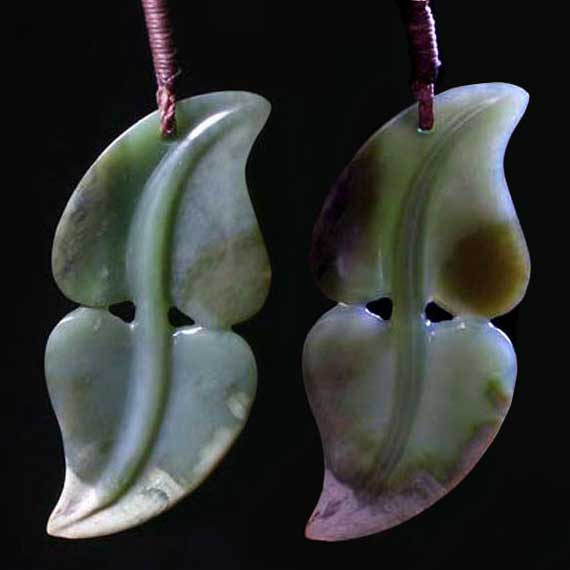 These two leaves were carved from a stunning New Zealand Inanga jade. Front lit and back lit photos.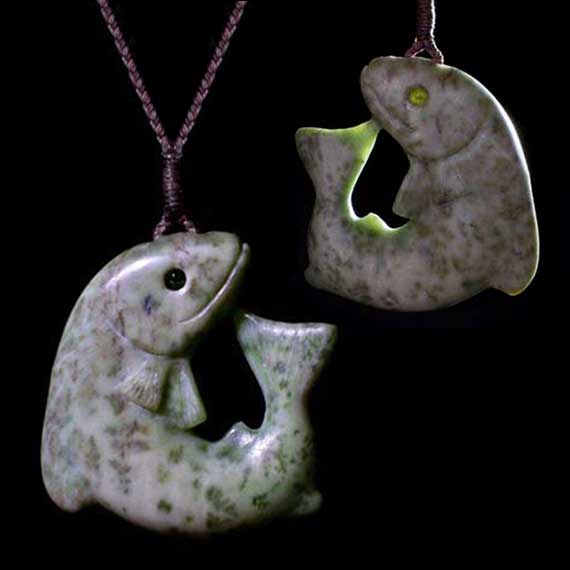 This beautiful and unusual Kokopu jade has very rare green spots in it and a Tangiwai eye. Front lit and back lit photos.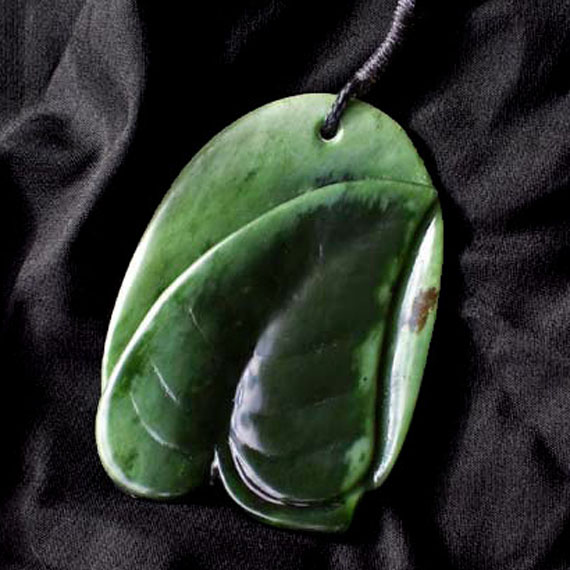 This jade leaf has used the 'rind' and heart of the stone to give the two different colours.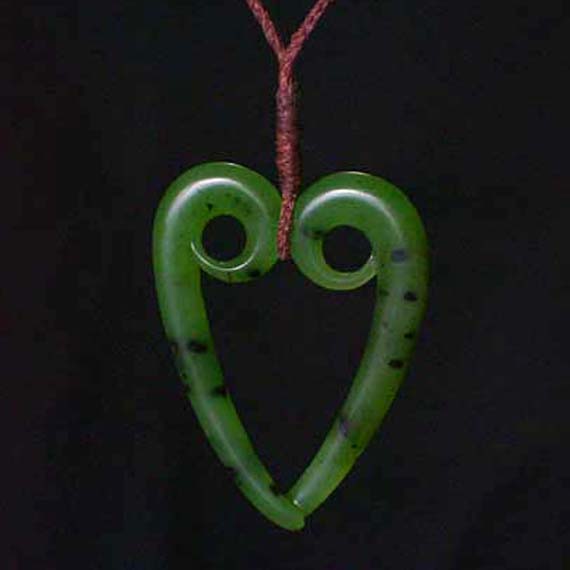 This heart shaped pendant is carved using two koru and is carved from a lovely light green jade.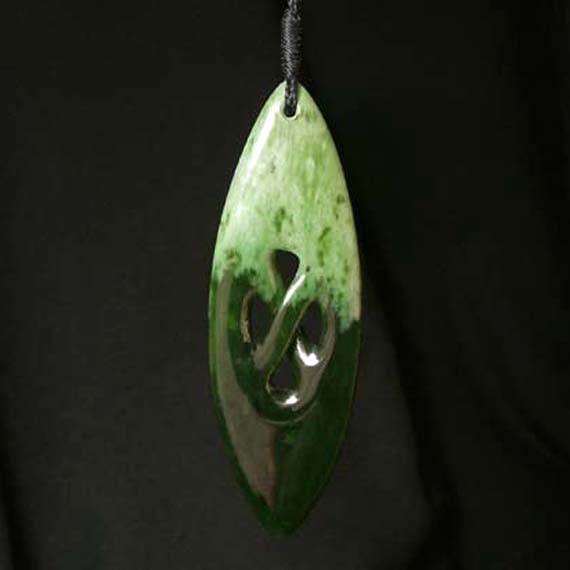 This celtic inspired pendant has used the 'rind' and heart of this lovely Marsden jade to give the two toned effect.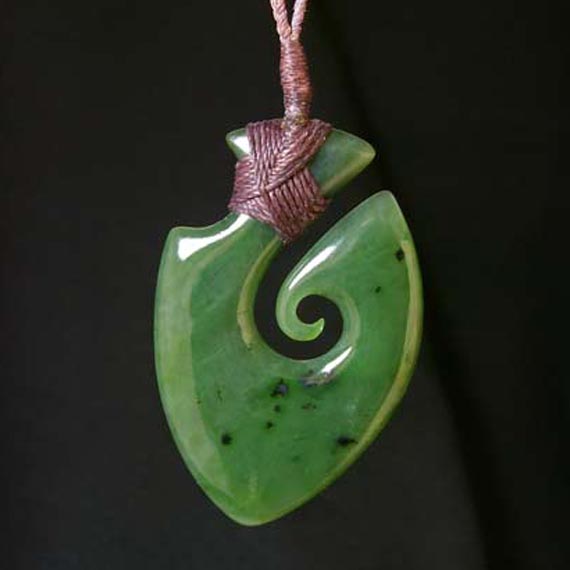 This fishhook is carved from a beautiful New Zealand jade and has a traditional lashing connecting the pendant to the cord.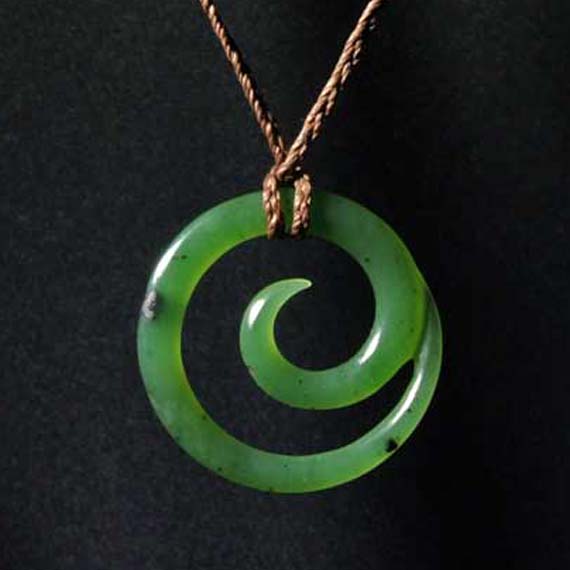 This jade koru (spiral) has been carved from a beautiful light green jade.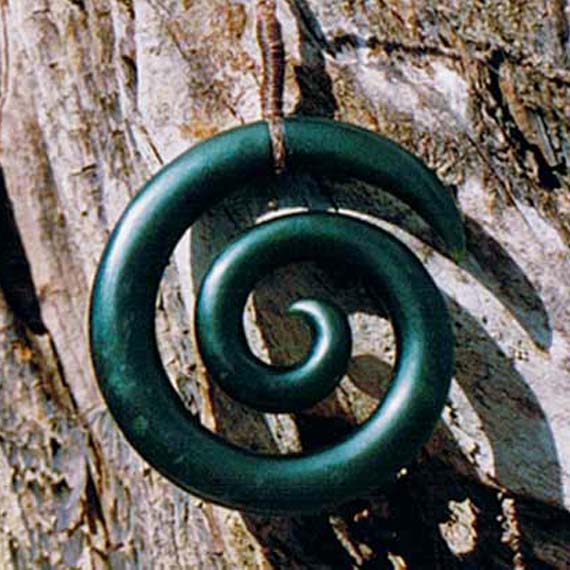 This jade koru (spiral) has been carved from a beautiful dark green Marsden jade.
If you are interested in any of the pendants you've seen, please get in touch. I would love to discuss your personal commission with you.